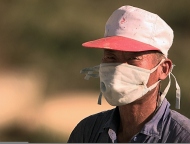 The International Labour Organisation (ILO) celebrates the World Day for Safety and Health at Work on the 28 April to promote the prevention of occupational accidents and diseases globally.
It is an awareness-raising campaign intended to focus international attention on emerging trends in the field of occupational safety and health and on the magnitude of work-related injuries, diseases and fatalities worldwide.
This year, the theme is the prevention of occupational diseases, which continue to be the leading cause of work-related deaths.
According to the WHO, globally, 19% of all cancers are attributable to the environment, including work setting, resulting in 1.3 million deaths each year. Most of the exposure risks for occupational cancer are preventable. About 125 million people in the world are exposed to asbestos at the workplace. According to WHO estimates, more than 107 000 people die each year from asbestos-related lung cancer, mesothelioma and asbestosis resulting from occupational exposures. One in three deaths from occupational cancer is caused by asbestos.  For more information please download UICC's position statement on asbestos.