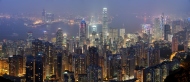 Held in Hong Kong from the 25th to the 28th of September, in his welcome address, Dr Kutluk emphasised the need to include childhood cancer in global plans and strategies on non-communicable diseases as well as in child health programmes.
Dr Kutluk also co-chaired a SIOP/UICC session on cancer registries that outlined recent 
developments in the Global Initiative for Cancer Registration Development (GICR) and improved data collection of data on childhood cancer globally. Other participants in the session included Dr Rajesh Dixit who discussed paediatric registries in the Asia-Pacific region, Dr Akira Nakagawara, whose presentation outlined barriers and facilitating factors for  paediatric cancer registration from the experience of Japan and Dr Mohammed Harif who discussed institutional based registries in developing countries. Around 1400 people participated in the SIOP meeting and the various sessions addressed a wide range of topics including access to medicines, clinical case management, nursing, psycho-social support, and early detection of childhood cancers.
More information can be found at: http://www2.kenes.com/siop/Pages/Home.aspx