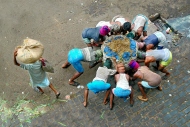 Today is World Cancer Day, the Day when the global cancer community joins voices and efforts to bring cancer in the public eye and increase understanding of the disease.
UICC is marking this special global awareness day with the official public launch of its new three-year campaign Together For Action that requires a total project funding goal of $20 million. The first phase of the campaign will coincide with the 2014 World Cancer Congress in Melbourne and a funding goal of $7million.
UICC has already secured funds totalling $3.5 million, benefitting from the tremendous support of almost all UICC's partners so far.
We thank our leading members the World Cancer Research Fund International, the Dutch Cancer Society, the Swiss Cancer League, the American Cancer Society, the National Cancer Institute and many others, as well as our long-time partners Varian, Sanofi, Roche, Pfizer, Elekta – to name a few – which stepped in to join our new campaign, demonstrating a fantastic commitment and ongoing endeavour to help us transform the way cancer is viewed around the world. We are also delighted to welcome new partners of choice - the Friends of Cancer Patients, the Cancer Society of Finland, the MD Anderson Cancer Centre or BUPA. 
Whilst UICC's first campaign Together We Are Stronger successfully supported the cancer community to present a united front to governments and ensured cancer and the other non-communicable diseases (NCDs) gain greater priority in the highest political sphere, Together For Action has the ambition to accelerate the pace of change as stated by Cary Adams, UICC's CEO, in this video.
Cancer has still a devastating effect on families, businesses and health systems, costing the global economy close to one trillion dollars each year. The steady growth in the numbers of people dying from cancer remains alarming and unacceptable: "The rise of cancer worldwide is a major obstacle to human development and well-being", comments Dr Christopher Wild, Director of the International Agency for Research on Cancer (IARC). "These new figures and projections send a strong signal that immediate action is needed to confront this human disaster, which touches every community worldwide, without exception," stresses Dr Wild.
The support of UICC members, cutting-edge corporations and foundations, governments and UN agencies is therefore critical to addressing the campaign's three main priorities:
Integrate Global Health Agreements
Unite the Global Cancer Community 
Improve Global Capacity Building
UICC's objective is to ensure that governments take tangible conducts to make their commitments a reality: national cancer plans and cancer registries should be created and put in place to measure progress at all stages of cancer control - prevention, early detection, treatment, and palliative care.
As a trusted advisor to policy makers and private sector, UICC will keep convening and connecting leaders and cancer experts to ensure that cancer prevention and control remains an urgent priority.
Across our capacity building initiatives, our ambition is to achieve tangible results and advocate for successful models to be replicated elsewhere for wider impact. We aim to achieve measurable changes in the number of people dying from preventable cervical cancer, as well as the detection and treatment of cancer in children. 
UICC is also committed to ensuring that cancer patients are not forced to suffer in pain, regardless of where they live in the world. 
Together, with our 800+ members, 46 partners and other key players in the cancer world, we are a powerful force to drive sustainable change on a global scale. At UICC, we believe in valuable long term partnerships and a strong coordinated approach to transform the course of the cancer crisis and save millions of lives. Join our Together For Action campaign and make a difference!
Find out more by downloading the Together For Action - Case for Support