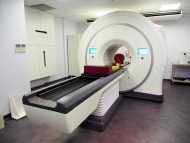 The Global Task Force on Radiotherapy for Cancer Control (GTFRCC) convened its first meeting during the ECCO Congress 2013 in Amsterdam. The Task Force set itself a challenging agenda to engage a broader range of stakeholders and deliver a new global report at the World Cancer Congress 2014 – "An investment framework for closing the global divide in access to radiotherapy". At the helm of the GTFRCC is Honorary Chair, Dr Tabaré Vázquez, radiation oncologist and former President of the Oriental Republic of Uruguay. 
By bringing cancer leaders together with radiotherapy professionals, industry partners, cancer control organisations, patient groups, economists and enablers of healthcare change, the GTFRCC seeks to: clarify the challenge, identify opportunities and quantify the investment needed to provide equity in global access to radiation therapy - an essential technology that all cancer patients must be able to access. To-date, more than forty individuals, organisations and industry partners have agreed to work on the task force providing global representation, wide consultation, subject matter expertise and guidance on health policy and economy.
Learn more about the Global Task Force on Radiotherapy for Cancer Control (GTFRCC) here.