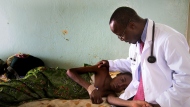 Hospice Africa (Soins Palliatifs ) France (HASPF) is pleased to announce its second Francophone intensive course in palliative care. For 20 years Hospice Africa (HA) has been providing affordable palliative care in Uganda in a form which is culturally appropriate to that country. The education department of HA, The Institute of Hospice and Palliative care in Africa, has been training health professionals from Uganda and other Anglophone countries up to degree level in palliative care to the HA model. As a result, this form of care is available throughout Uganda and in several other sub-Saharan Anglophone countries. HASPF was set up to respond to the needs of francophone African countries for care on the HA model.
The course is being held in Uganda so that participants can have the benefit of seeing the model in practice and learn how it has been incorporated into the general health care plan of the country. The students will spend two of the five weeks working with HA teams in one of their three centres in Uganda and also have the opportunity of visiting palliative care units independent of HA and the African Palliative Care Association. At the end of the course the participants should be able to establish their own palliative care services within the medical units where they work and be effective advocates for affordable palliative care.
This five week course is being held at premises of The Institute of Hospice and Care in Africa in Kampala, Uganda.
Dates and venue
From 15 April to 17 May 2013
Hospice Africa Uganda
Kampala, Uganda
Registration deadline
1 March 2013
For more information regarding the registration form, grant requests, please send an email to the following address: hospiceafricafrance@yahoo.fr
Please download the Course announcement (in French) for more information.
Image courtesy of © Moonshine Agency Dr Henry Ddungu treating a cancer patient in Kampala, Uganda