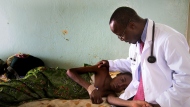 Like many other cancers, breast cancer, the most common cancer in women, particularly affects developing nations. In poor countries, 40 to 60 percent of breast cancer patients die from the disease, while about 20 percent die in the United States. This large gap is largely due to lack of awareness, misinformation, poverty but also stigma. These many factors discourage women from seeking help until it's too late.
"Cancer has long been neglected in developing countries, overshadowed by the struggle against more acute like threats like malaria and AIDS." writes Denise Grady, reporter for the New York Times. 
The article also discusses the important work of one of UICC's Members, the Uganda Women's Cancer Support Organization, which is composed of volunteers working to try to stem misinformation and stigma associated with cancer. The Organisation's aim is to give psychosocial support to women and their families experiencing breast cancer and cervical cancer diagnosis. They are focused on educating the entire population about the importance of early diagnosis and treatment of these cancers, as well as trying to impart a culture of routine screening, adopt best practices of Self Breast Examination (SBE) and presenting early for treatment.
The situation in Uganda illustrates the huge cancer divide which exists between low- and high-income countries.