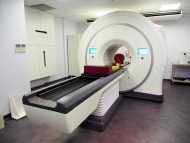 Radiotherapy, an important element of comprehensive cancer management, is highly effective at improving survival and reducing suffering in individuals with cancer. However, access is inequitably distributed between poor and rich countries and has been largely ignored in eff orts to close the cancer divide.
Misperceptions about the cost and complexity of radiotherapy have limited its availability in countries with competing priorities and underdeveloped infrastructure and regulatory capacity. However, available evidence points to its cost-eff ectiveness, especially when value is measured in factors other than survival.  
The Union for International Cancer Control (UICC) has established a Global Task Force on Radiotherapy for Cancer Control (GTFRCC), to develop a worldwide investment framework for radiotherapy, coordinating closely with the Lancet Commission on Global Surgery and the Global Task Force on Expanded Access to Cancer
Care and Control in Developing Countries. For more information about the Task Force is avaiable here. 
A copy of the full commentary article published in the Lancet Oncology, Volume 15, April 2014, can be downloaded here.