The Cancer Atlas, collates a large variety of research and cancer data from 184 countries and combines the findings into a comprehensive guide that illustrates the global cancer landscape. It highlights non-communicable diseases in general and cancer in particular, outlining precautionary health measures that governments can take to reduce the burden of the cancer epidemic, especially in low and middle-income communities.
The Cancer Atlas also provides a comprehensive global overview of information about the psychological effects of cancer on patients and their families, associated risk factors, methods of prevention and measures of control. It also features three main chapters dealing with risk factors, burden of cancer and taking action.
The Arabic version was launched during the 35th edition of the Sharjah International Book Fair (SIBF) and at a second event at the 2016 World Cancer Congress in Paris..H.H. Sheikh Dr. Sultan bin Mohammad Al Qasimi, Supreme Council Member and Ruler of Sharjah, signed the first copy of the Cancer Atlas at FoCP's booth, in the presence of FoCP's board members, including Sheikh Mohammed bin Abdullah Al Thani, Mohammed Al Musharrakh, Noha Safar and Dr. Shereen Habib.
In parallel with the event in Sharjah, FoCP launched the Arabic edition of the Atlas during its participation in the 2016 World Cancer Congress in Paris. This was in the presence of Dr Sawsan Al Madhi, Director General of FoCP and Lize De Jonge, Pink Caravan Project Manager, as well as several members of FoCP and of the American Cancer Society.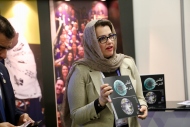 Dr Sawsan Al Madhi said, "In alignment with the vision of H.H. Sheikha Jawaher bint Mohammed Al Qasimi, Founder and Royal Patron of FoCP, we make every effort to ensure we are aware of the latest scientific studies and research on cancer worldwide. By launching the Arabic version of the Cancer Atlas, in collaboration with our international partners, we will widen our efforts and reach a greater audience with the relevant findings, research, achievements and ambitions."
There are several goals, most notably to help societies and associations dedicated to raising awareness of cancer – and all those involved in cancer control – to set plans and programmes based on precise scientific studies, she added.
Chapter I of the Cancer Atlas focuses on the obvious global variation in cancer incidence where the causes of cancer involve tobacco and smoking habits, infection, unhealthy diet and UV emissions. It emphasises that tobacco is still the main cause of cancer in most high-income countries, while infection plays a big role in a number of African and Asian nations. Obesity is a major risk factor for cancer in most regions in the world.
Chapter II relates to the burden of cancer and illustrates the impact of geographical diversity on the prevalence of various types cancers. Results show that cancer can vary hugely between different populations. In this section, the Atlas describes the burdens of treatment according to the Human Development Index, and the fall in average years of life expectancy. It pays special attention to child mortality and the significant implications for certain economies.
The third chapter focusses on taking action, and illustrates proven means of fighting cancer at every stage of cancer control continuum, including prevention of risk, early detection, treatment and intensive care. Chapter III also provides profiles about organisations dedicated to cancer control, developing modern policies and legislation to tackle cancer and other non-communicable diseases.
Next to the Arabic version, The Cancer Atlas, 2nd Edition is currently available in English, French, Spanish, Russian, Chinese, Turkish, and Portuguese and is being translated into Farsi which will be launched in the coming months. PDF versions of all translations are available at the Cancer Atlas website.
For more information please contact: capacitybuilding@uicc.org